The contributions of each individual member of our team are essential to our ability to provide excellent quality legal service to our clients.
Stanley, Lande & Hunter provides a challenging work environment that emphasizes client service, provides orientation and training programs, offers early client contacts for associates, and encourages members to attend to family and community needs. We have a mentorship program to assist associates as they become familiar with our firm and the practice of law. Our associates work on interesting projects and have reasonable goals. We make every effort to provide our members with the resources and support required for high quality client service. We are an equal opportunity employer.
We are always interested in talking with exceptional people about joining our team of talented and skilled members. If you are interested in a work environment that promotes diversity, vitality, integrity, and personal and professional growth, we welcome your inquiry.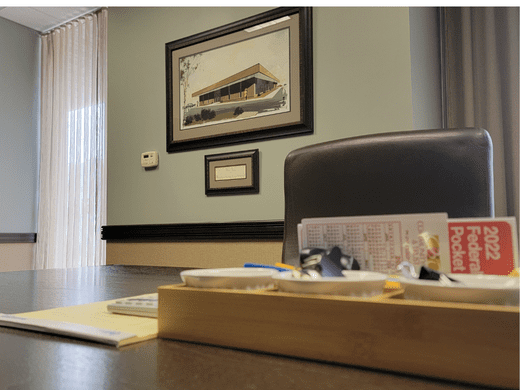 Lawyers
We are looking for law students and practicing lawyers with a strong balance of academic credentials and interpersonal skills, including competitive law school experiences and practice area or past career experience.
We often recruit law students on campus in the fall, and we accept applications from practicing attorneys and judicial law clerks throughout the year. We make every effort to make hiring decisions promptly after final interviews, and we reimburse travel expenses for callbacks and full interviews.
We often employ law students to work as law clerks during the summer months and on a project-by-project basis throughout the year. Our law clerks work with our attorneys on a variety of business and litigation matters and typically experience a wide diversity of legal matters. We are particularly interested in hiring law clerks with an interest in practicing law and living within the Eastern Iowa area. Our law clerk program is designed to provide rewarding experiences for our clerks and serve as an associate recruiting opportunity for the firm.
We conduct an orientation program for all new associates, laterals, and clerks to address handling of assignments, timekeeping, evaluations, use of technology, and business development. Each new associate has an adviser to assist the associate in becoming a productive contributor, review assignments from other lawyers, and provide guidance as the associate encounters new challenges from day to day.
The firm offers compensation that is competitive with other firms of comparable size and stature in our region. In addition, full-time associates have opportunities for incentive bonuses based on production and new client attraction. Our benefits package is explained at Benefits.
Steven Havercamp
Stanley Lande & Hunter
Suite 1000
201 West Second Street
Davenport, IA 52801
Legal Assistants
Legal assistants provide valuable services for our clients in the areas of real estate, probate, business entities, taxation, and litigation. Completion of certified legal assistant training is preferred but not required.
Support Staff
Members of our support staff enable us to deliver professional services to clients efficiently and effectively. These positions include secretaries, bookkeepers, file coordinators, receptionists, and billing specialists.
Benefits
Our benefits package for our members includes:
Life, health, disability, and dental insurance
Vacation time
Medical and disability leave
401(k) plan
Retirement plan
Tuition reimbursement plan
Flexible spending accounts for both health care and dependent child care
To the greatest extent possible, we allow flexible work schedules to accommodate personal and family needs. We also cover the cost of bar review classes and related bar exam fees for first-year associates.