Dedicated to Client Service. Stanley, Lande & Hunter is a team of professional advocates who are dedicated to serving our clients.
Our services include Business and Corporate Law; Commercial and Civil Litigation; Estate Planning; Trusts and Estates; and Wills and Probate Law.
Our goal is to provide quality service on a timely basis. We strive for excellence in both our product and our service. Our policy is to communicate in plain English, and we keep our clients informed at all times about the status of projects and our services. We routinely send clients copies of documents prepared or received in connection with those services, and we respond promptly to clients' calls and inquiries.
We use the team approach to make our full complement of resources available to our clients. One lawyer provides overall supervision of a client's work, and other members of our legal services delivery team with experience in specialized practice areas participate when the project requires their depth of experience. This team effort and our "can-do" attitude enable us to meet clients' needs effectively and efficiently.
Our professional relationships with clients require complete trust and confidence, and we keep all information clients provide us in kept strict confidence. We subscribe to the highest standards of professional conduct and responsibility. Stanley, Lande & Hunter is dedicated to client service.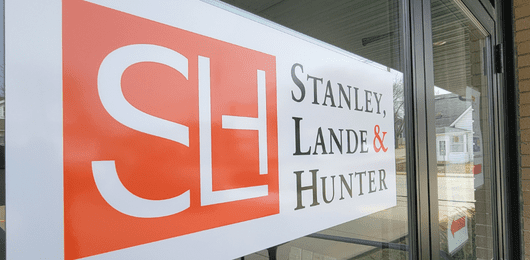 Our clients reach us by telephone at the office or home, by voice mail, by electronic mail, by facsimile, and by regular correspondence. Our professionals:
Return phone calls promptly.
Meet at clients' offices or places of business.
Listen carefully to problems and needs.
Develop and achieve solutions.
Review problem-solving options with clients.
Deliver legal services when they are needed.
Follow through to complete the project.
Our roots go back to the mid-1800s, when John C. Bills began the practice of law in Davenport. Albert Hamann and Edward Doerr continued the practice, and the firm was known as Doerr and Dower from 1946 to 1957 after James Dower joined the firm. In 1957, the name became Doerr, Dower & Rehling.
Also in 1957, David Stanley began to practice law in Muscatine and established his own firm. The firm grew consistently and acquired the Wilton practice of Gillett and Gillett in 1982.
In November 1987, we combined the professional practices of the Davenport firm of Rehling, Lindburg and Gosma and the Muscatine firm of Stanley, Lande, Coulter & Nepple. This merger blended the experience and specialties of two well-established firms.
The contributions of each individual member of our team are essential to our ability to provide excellent quality legal service to our clients. Members of our support staff enable us to deliver professional services to clients efficiently and effectively. These positions include secretaries, bookkeepers, file coordinators, receptionists, and billing specialists.
We have a long tradition of service, both to the legal profession and to our communities.
Our lawyers have strong ties and commitments to the communities in which we practice. We are active in civic, charitable, church, and development activities at home and at state and national levels as well. We pitch in when work needs to be done and regularly accept leadership roles in organizations and efforts which make our communities and states better places in which to work and live.
These leadership activities include Chamber of Commerce, United Way, Association of Business and Industry, library boards, state university boards and foundations, economic development, public referendum issues, health associations, leadership programs, State Board of Regents, fund drives, school boards, and countless other efforts.
We also have a long tradition of active involvement in bar association work at local, state, and national levels. Our lawyers have been chosen to lead county bar associations, the Iowa State Bar Association, the ABA Law Practice Management Section, the ABA Coordinating Commission on Legal Technology, and the College of Law Practice Management. We believe that volunteer service to the legal profession results in better professional service to the general public.
A sample of
Our Trusted Clients